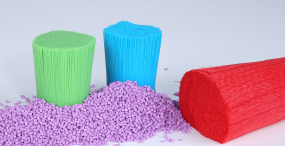 Already in the nineteen fifties Braun & Wettberg Kunstborsten(R) developed household brushes with PVC filling for a wide range of applications. During the seventies we started with the production of PP fibres. Polyamid fibres have been part of our product portfolio since 1985.
Our special strength becomes obvious by continuously developed innovations – developed in our own centre of development – and the optimal translation of individual demands – for safe, sustainable, ethical and trend-setting plastic products.
All products manufactured by Braun & Wettberg Kunstborsten (R) are manufactured in Germany – this guarantees fast and best quality delivery and it saves time and money.